ALKAL-LIFE WATER IONIZER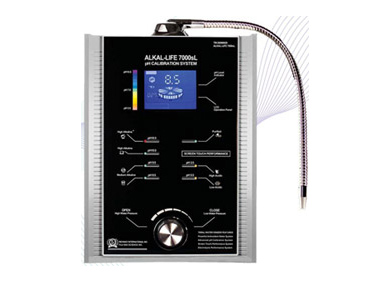 We need to stay hydrated. And what better way than to use the Alkal-Life Water Ionizer! This water system easily connects to the faucet and uses the world's most advanced pH calibration system to turn tap water into alkalized water.
Acidic build-up in our bodies is common from pollution, stress, and diets rich in dairy, animal protein and processed foods. The purpose of the Alkal-Life Water Ionizer is to bring alkaline water to our bodies, which helps restore our ideal pH balance (6.9-7.2).
Tap water may be poorly filtrated, and contain toxins and pollutants. The Alkal-Life Water Ionizer goes through six layers of filtration and anti-microbial processing to:
Remove impurities.
Activate healthy minerals.
Consequently, this alkalized water allows for better hydration – the cells/body can absorb this water faster and easier. Also, nutrient absorption is improved for increased energy and improved vitality.
The Alkal-Life Water Ionizer retails for $2,500 (FREE shipping) and is part of the Richway Care Program Policy.

FDA DISCLAIMER:
These statements have not been evaluated by the Food and Drug Administration.
These products are not intended to diagnose, treat, cure or prevent any disease.
Information provided is for informational purposes only and is not intended as a substitute for professional medical advice or recommended treatments. It is not a substitute for the product User's Guide. Please consult with a medical professional regarding any health concerns and before beginning this or any other health care program. Any information with regard to personal testimonials about the product do not reflect nor represent product claims.