DETOXi Salt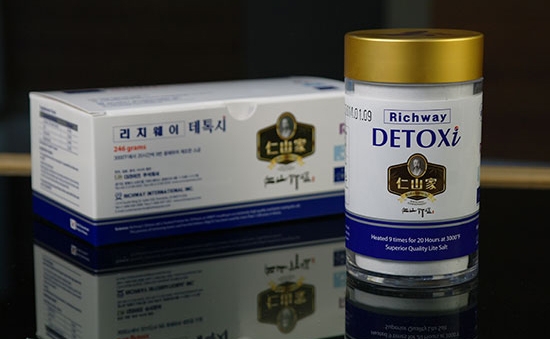 | | |
| --- | --- |
| DETOXi salts utilize an ancient manufacturing process that originated 1300 years ago in a Korean Buddhist temple. Natural sun-dried salt is packed inside hollow bamboo sections and heated nine times for 20 hours at 3000° F. with pure yellow ocher. | |
For most effective use, place .5g in an 8 oz. glass of water before a 30-minute BioMat session or 30 minutes before eating (measuring spoon included).
This salt is ionized and enhances a BioMat session by preventing dehydration during usage. DETOXi salt has a pH of 7.5 (higher than ordinary salt) and it contains numerous essential minerals and micronutrients such as zinc, magnesium and potassium. It is an outstanding anti-oxidant. This salt assists in discharging toxins through sweat and urine.
Also check: ALKAL-LIFE WATER IONIZER 7000sL
Pricing:
One box is $120 (FREE shipping).
Three boxes are $250 (FREE shipping).

FDA DISCLAIMER:These statements have not been evaluated by the Food and Drug Administration.
These products are not intended to diagnose, treat, cure or prevent any disease.
Information provided is for informational purposes only and is not intended as a substitute for professional medical advice or recommended treatments. It is not a substitute for the product User's Guide. Please consult with a medical professional regarding any health concerns and before beginning this or any other health care program. Any information with regard to personal testimonials about the product do not reflect nor represent product claims.